Testimonials
From Writing and Editing Clients:
"Audrey is the best editor I could have hoped for: diligent, creative, fast, flexible. Her skill really elevated the prose."
"Working with Audrey was really amazing. She was simultaneously encouraging and challenging and she seemed to have a really good grasp of my skill level at the time, which helped more than she knew. I felt really great about working with her, and our calls always felt really productive and creative. She was especially good at knowing what I was going for when I didn't really know myself. I would definitely recommend her help for any aspiring authors trying to tackle a novel!"
"If I had a writing tool belt, my go-to tool would be Audrey."
"This editor provided excellent, insightful feedback on the first chapter of my novel. If you want to get some thoughtful perspective on your story, I highly recommend her."
"Amazing writer and collaborator. Intend to work with Audrey again in the very near future. Highly recommended!"
"Audrey is an amazing writer and is highly professional in her communication. I was blown away by the end result for this project and she delivered it way ahead of schedule. I would highly recommend hiring Audrey for your creative writing projects!"
From Core Action Circle Participants: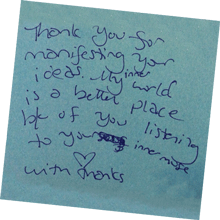 "[The Core Action Circle] definitely got my juices flowing and gave me a boost of hope and confidence. It also gave me insights about myself and my process that were deeper than I expected... I saw [Audrey] kind of like a master fire builder. Someone who knows exactly when to add fuel, when to help the air flow, and when to let it be, giving just the right nudges to let it take off on its own."
"The three hours at the Core Action Circle, both the movement-art-reflection time and the feedback from others, was hugely valuable to me. I was surprised by how I really did move into action in a way I would not have on my own. Plus it was a deliciously nurturing and connective afternoon."
About One-on-one Intuitive Facilitation:
"Audrey is a personal 'cartographer.' She is someone who listens deeply and then is able to reflect back the terrain of your brain. You come away with a collaboratively created map to guide you to where you wish to go, complete with trail markers and possible pathways. We all need someone to cheer us forward, make those big leaps look not so daunting or find the stepping stones along the way, and Audrey is right there, colorful pen in hand. She also can see through the bullsh*t -- and help you cut to the chase and carve out the time and space to succeed. She is someone who deeply rejoices in the cycles of life, trusts the heart and body's deepest wisdom and pacing, marks special moments, and holds sacred time. The model of her own commitment supports you to connect with what is most essential, bring more celebration into your life, discover ways to mark important moments and choose what little daily things can make a big difference."
From Creative Writing Students:
"I needed structure, deadlines and support to just start writing. Having to write for five minutes, surrounded by others, was such a great way to force the pen...and push out inhibitions...in short-term, low-stakes setting. It helped then when I sat down to do it at home. I was terrified to write and share my stories...and this class took that terror away. I really think it did." -- N. A.
"I think you make everyone feel comfortable in a situation where people are often more self-conscious and awkward in sharing work and thoughts. I appreciate your ability to create an inclusive environment for all writers at any level of experience." -- J.E.
"I think this workshop was a gift. I really didn't know what to expect. In fact, I had no preconceived notion of what I wanted, or expected, or thought about this endeavor. I gained so much: confidence, renewal of a love I have for writing and storytelling and meeting others of like mind. ... Overall I think this was a great class, and you did a beautiful job of spurring us on to writing more, revising more, and taking risks. Thank you. I feel I can go forward with my writing practice and ambitions, because I was inspired by everyone's writing."
"I've found your class to be the best writing class I've attended at the CCAE." -- A. M.
"This class was wonderful. I like your low-key manner. You give off the sense of caring about the process of writing but not worrying about pleasing everyone -- which means that we are not anxious. We have faith that things will develop. And they did -- the clan learned a great deal from one another and you created a generous environment." -- A. H.
"I loved the people in the class, which is partly just luck of course, but probably also speaks to Audrey's ability to work with groups and bring out the best in people." -- S. B.
"This class has helped me step back and look at my work. ... I feel that you, Audrey, strike a good tone -- you say many good things and you are insightful about what the problems are. ... Thank you for all the thought you put into each person's essays. You clearly care about this and value us. You are an excellent teacher, and your suggestions are extremely helpful." -- M. A.
"One thing in particular that has struck me is that you have required us to be engaged, responsible readers -- and not only required this but succeeded in developing this sense of involvement and this sense of responsibility for being active readers and active critics. I myself found this especially challenging because, professionally, I have always focused more on language -- grammar and vocabulary -- rather than on writing. You have been so genuinely engaged with the writing of each student in the class -- and have taken such a sincere, genuine interest in the comments that we have prepared to voice in class -- that I have had to learn to read and critique genuinely and sincerely. This is not a class one can prepare for superficially; one has to search one's mind in an energetic way -- to rise to the expectations so explicitly voiced by you.
"Thus, I find that you have been a compelling teacher. You have empowered me -- and the others, I believe, to take our writing seriously -- and to commit ourselves to the success of our fellow students. You have managed to create an environment in which people of very different ages and backgrounds are inspired to lower the barriers among them and learn from one another and care about one another. I did not think this was possible at the beginning. You effaced yourself -- permitting the individual students to bloom.
"Your written feedback has been very insightful and productive. I feel inspired to write more. Thank you so very much." -- K. H.
From 4th & 5th graders:
"Audrey is the BEST!" -- M
"She is great at working with little kids." -- E
"Audrey is perfect just the way she is!... I would hire Audrey again because she's very funny! And she's perfect!" -- B
"You are pickle perfect!" -- P
"Audrey = cool." -- E